Augmented Reality Is A Game Changer For Oil & Gas
During a global pandemic and crisis, the Oil and Gas industry turns to Augmented Reality technology to save a lot of money and facilitate working remotely.
The oil and gas industry has started using AR to fix and maintain equipment at oil and gas facilities, cutting downtime and costs and saving on travel expenses for flying specialized staff thousands of miles to the actual facilities.
AR headsets with smart goggles provide on-site technicians with wireless connection directly to headquarters staff or to the most skilled experts thousands of miles away, who can guide the on-site staff through the tasks they perform via audio and video.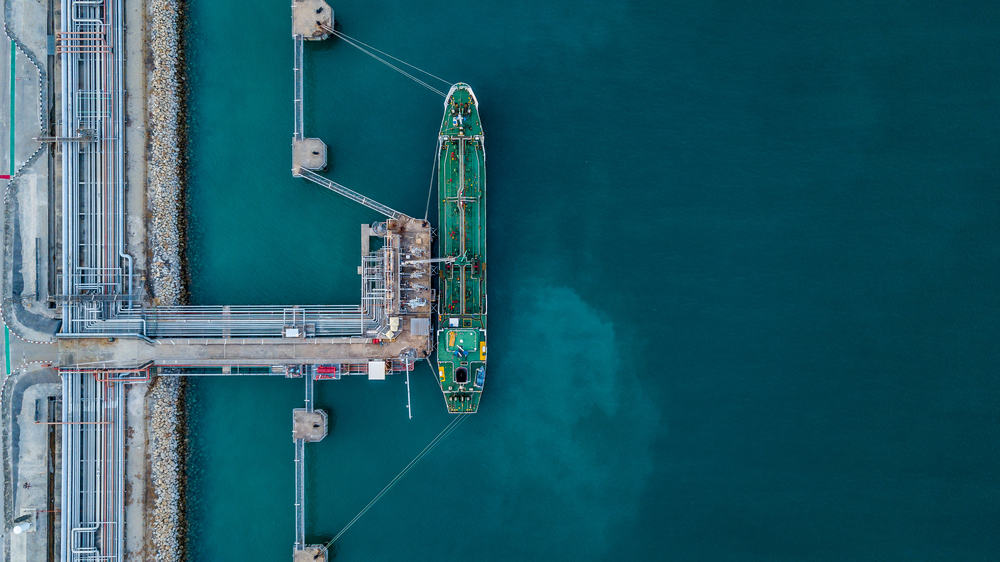 An industry that has already slashed costs across the board to survive and reposition itself to profit at low oil prices.
The AR revenue for the energy and utilities sector will be a US$18-billion market in 2022, with platform and licensing, as well as smart glasses hardware, comprising the majority of that market, according to ABI Research.
This year alone, the energy and utilities industries will account for 17 percent of global smart glasses shipments, the advisory firm said.
For an oil industry recovering from the oil price crash, cutting downtime and costs and boosting efficiency is the new normal at oil prices half their level compared to 2014.
So, companies have jumped on the 'digital disruption' bandwagon and some are already using smart goggles and wearables to reduce downtime and increase safety. 
Less downtime, more profits
Oil and gas facilities shut for 27 days each year on average. According to Deloitte, a 100,000-bpd refinery losing a single day of operations could reduce revenues by more than US$5.5 million and cut profit by US$1.4 million. The use of sophisticated and smart technologies is spreading across the oil sector, in which the biggest firms and all those smaller companies who survived the downturn continue to look to save more costs.
Proof of concept
Remote AR is not the cure-all wonder tech because it needs reliable wireless networks which oil rigs in the wilderness often lack, and because headsets need to meet strict safety standards to be used close to hazardous materials. But some of the biggest oil firms are already using some kind of AR or MR to increase safety and efficiency and cut costs.

Recently, Baker Hughes has replaced parts of a turbine at a petrochemical plant in Malaysia in five days and no travel expenses as one on-site technician was guided by specialized U.S. engineers supervising the work remotely from a Baker Hughes site in California.
The replacement of the parts would have otherwise involved at least 10 days of halted operations at the plant and US$50,000 to fly the American team, Bloomberg reports.
Shell is using AR in training for safety training procedures at a deepwater oil project offshore Malaysia.
BP uses AR smart glasses in its U.S. operations, alongside drones and advanced analytics.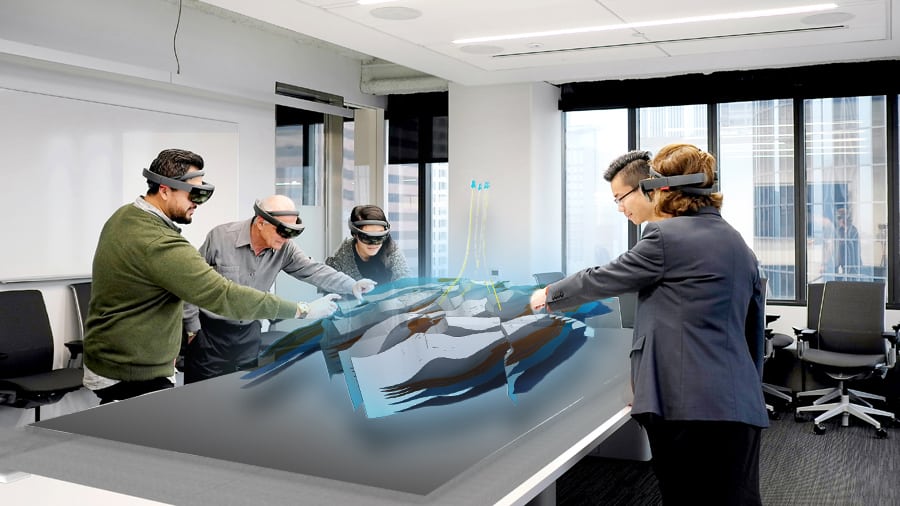 Image: Co-workers using the BaselineZ : 3D Modeling Collaboration platform with Hololens
The future of remote collaboration in Oil and Gas exploration
Products like Spatial and others, allow workers to collaborate anywhere using Mixed Reality. It certainly brings a lot of value to companies with a worldwide workforce, but in reality it offers little to no use for petroleum experts.
This is where BaselineZ comes in, as one the first remote 3D Modeling Collaboration software dedicated to oil and gas exploration, it aims to aid Oil and Gas companies to build a future-proof workflow for their operations.
The BaselineZ Platform provides a unique way to integrate innovative AR technologies into your existing 3D modeling and real-time workflows. Allowing experts to stay connected with their global team members, customers and partners and instantly share project status or newly found insights.
By transforming your environment into an infinite workspace you can walk through your models as if you are walking through an outcrop. You can invite others to your session and review your 3D model together and even create your own designs with the available tools.
Support for a variety of 3D Reservoir Modeling datatypes, such as 3D Seismic Volumes, Wells, Logs, Tops, Well Designs, Horizons and Faults are already integrated. This data can be easily published to the cloud and visualized in Mixed Reality and Augmented Reality anywhere.
Watch BaselineZ in action here.
Experts say that the way we work will inevitably change in the near future. Augmented Reality technology could be the answer for a lot of industries and certainly for Oil and Gas.