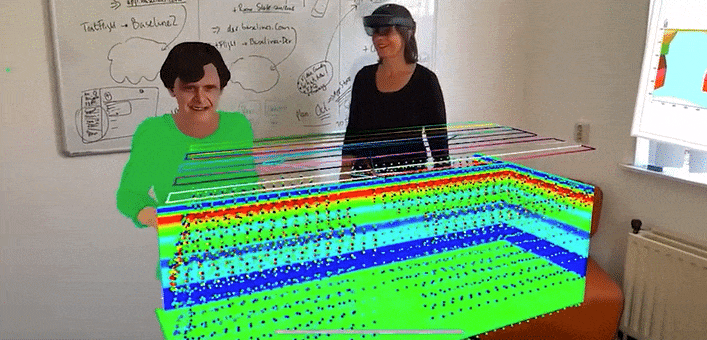 Mobile Geophysical Technologies (MGT) and Craytive Technologies used BaselineZ to visualize and collaborate on the 3D resistivity model obtained from a semi airborne electromagnetics survey (2020) in Northern Germany.
 

When discussing the first time with Johannes the possibility of visualizing drone borne geophysics data in BaselineZ, both of us got excited. So, I couldn't wait to get an example data set to load in BaselineZ. Now it is amazing to see the 3D resistivity model together with the flight routes on top in true 3D just out in the field. And looking ahead, what a chance to demonstrate the results of geophysics surveys to stakeholders in true 3D.

SME Geoscience, Katja Schulze
The Semi-Airborne EM method applied in this study uses a horizontal electric dipole on the ground to generate electromagnetic signals in the range between 10Hz to some 10s of kHz. The receiver is mounted to the drone and measures the resulting electromagnetic field along the flight profiles. This novel geophysical method makes use of numerous frequencies which allow for modeling the resistivities over a large depth range with unprecedented high resolution – and thus for creating a detailed 3D resistivity model of the subsurface.
In the below video you can see us inspecting the resistivity model at a local park, using BaselineZ. We entered a real-time collaboration session from the Netherlands and remotely from Germany, with our MGT colleague showing as a 3D Avatar.
The 3D resistivity model extends 1000m x 500m x 300m with bluish colors indicating low resistivity and reddish colors high resistivity. The model indicates a layered subsurface with a low resistivity zone in roughly 200m. The low resistivity is likely caused by salt from a nearby Permian salt diapir dissolved in a deep aquifer.
The real-time 3D Visualization and Collaboration capability of BaselineZ, allows us to interactively participate in the discussions and get a better understanding of geological features from different perspectives. All participants can simultaneously interact with the 3D mode
Drone borne geophysics facilitates obtaining extensive survey data and building 3D subsurface models – and thus calls for state of the art immersive 3D visualization and collaboration.
Drones have made their way into the daily workflows in geophysical exploration. As users scale their drone operations, the amount of geophysical data collected will only continue to grow. In order to digest massive amounts of aerial information collected on job sites, 3D representation and an immersive remote collaboration platform is needed to visualize the geophysical data and present it to clients all over the world. Combining data from various measurement methods performed in the field into a single 3D model with real world coordinates is necessary to extract relevant information on the subsurface structure of studied sites. Virtual reality must be interactive to be effective and maintain a feeling of immersion.

 

 CEO MGT, Johannes Stoll
Follow BaselineZ and stay up-to-date!